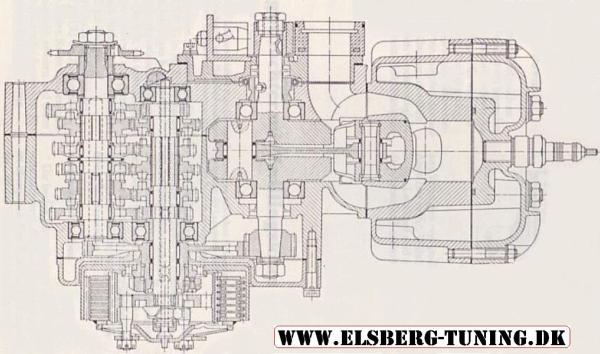 Building a classic race Kreidler.
---
It isnt everyday you stumble into a Kreidler race engine, loosely as-
sembled by a mixture of parts, which all happens to be brand new!
It happened to me some years ago, and I decided to build a racer
around it. First, an engine stand like the one I use for the Honda
engines were made, and this four- way adjustable unit makes engine
work much easier.
Disassembly showed some shortcummings, but the engine was all in all
a good starting point.
Watercooled, discvalved, six- speed transmission, a dry clutch, and
Kreidler Cross housings. Ordered gaskets, seals and various shims,
to get this engine fully assembled, and having looked at the space
left with fairing mounted, made me decide to run this engine without
batteries too. That meant installation of a mechanical waterpump,
and a self- energizing ignition. Waterpump could be driven by a
toothed belt off the PTO and an innerrotor ignition was mounted on
a new disc- valve cover.
Inspired by the Rittberger designed Van Veen racers from 1980- 82, a
frame was build from 20mm x 2 tubing. Headstock received conical
bearings and rear swingarm made of square 30 x 15mm tube, was
mounted in bronze bushings.
Found the right front fork through Ebay as a NOS item (New old stock).
Its a Marzocchi 28mm, not listed as a Marzocchi, but as a Malaguti 50
front fork!
So a little research will lead You to the right parts, at a reduced
price.
And the Grimeca caliper bolted right on too. Triple clamps were swap-
meet items, had to be honed to 28mm.
Wheels were an Ebay find too - Kawasaki AR50/ 80 - Campagnolo lookalikes.
Modified both sides to narrow down overall width, and fitted an adapter
into the rear wheels 110mm drum, to form a hub for the rear disc.
Opted for an aluminum fuel tank again. Hammerform was made of
numerous layers of plywood.
Detailed photos by motorjournalist Jens Jessen.







Kreidler 2:


Never felt comfortable riding the "white" Kreidler so a new frame was
needed, and the search for a possible "donor"- model began.
The quite intriguing design of the 1975 Dick de Jager frame
were chosen because of its ingenious simplicity!
This project has been advanced because of numerous rumours of
Kreidler race bikes being built here:
http://www.kreidlerreg.dk/ (Kreidler racing).






The DeJager replica were finished just hours before leaving for the first
championship race. A very short testrun proved the three- disc setup more
than adequate and maybe just excessive weight!
Final race looked promising - untill a severe lack of talent made me hit
a guardrail - at speed! Now a tedious checking procedure must be
executed before next hi- speed run.

For a full 2013 season follow- up, go to:



http://www.elsberg-tuning.dk/myraces.html